It's... Tech => General => Extra! Paper Study Cards - or
* V I S
Paperless Study Cards
*
FLASH CARDS ON CD
EXTRA, GENERAL & TECH ARE BEING SHIPPED NOW!!!

New lower prices on Paperless Flash Card CDs... only $19.95
New General-19 Cards are READY NOW...

Curent General-15 Cards and CDs are Half Price
Order NOW !!! ...while they last !

* * MROP - GROL - RTOL - RADAR - GMDSS * *
FCC Commercial License Cards
shipping NOW !!!
VIS Paperless Study Cards program runs on all Windows
TM
computers.
The
K7QO Code Course
in MP-3 is included on each Amateur Radio
Paperless Study Cards
CD!
---
Prices and Ordering
---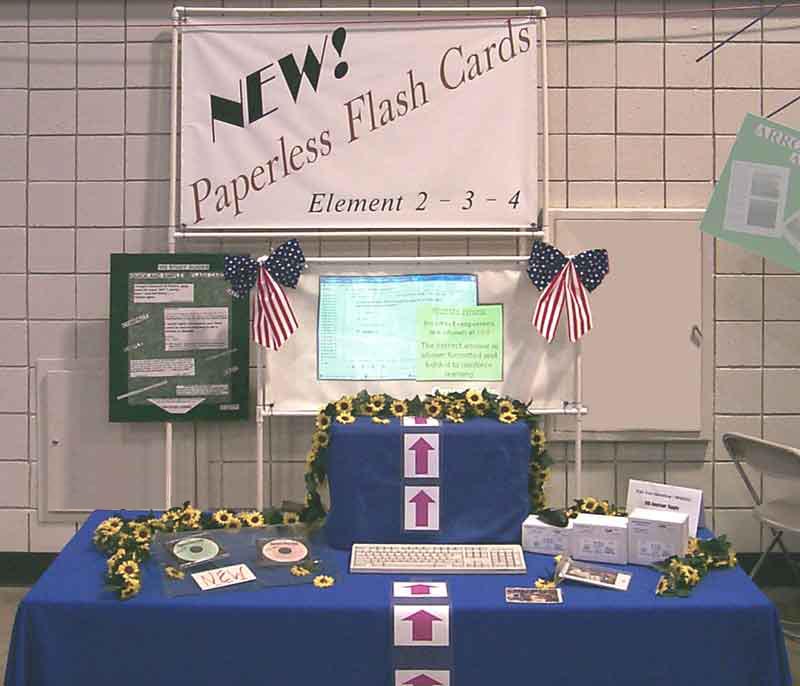 Our First Paperless Study Cards display at HamCom - Dallas
---
VIS Study Cards
QUICK, AND SIMPLE!!!
FLASH CARDS for Technician thru Amateur Extra theory
Key-words underlined
. COMPACT - EASY.
A card for each question.
Click here to see
photos
of many happy and successful users!
---
A smart way to study - - -
With a set of VIS Study Cards in hand, one can study in the same way as physicists prepared technicians for the Manhattan Project - -


- - Flash Cards - - Key Words - -
A quick way to study - - -
A few years back at the Virginia Beach Hamfest a Navy cryptographer bought NOVICE cards on Saturday and passed on Sunday ...another Navy cryptographer purchased our EXTRA cards on Saturday and came back grinning Sunday...he TOO had PASSED IN ONE DAY!!
At Jacksonville, FL a 10 year-old boy passed novice on Saturday, then bought TECH cards and passed it on Sunday!

A simple way to study - - -
VIS Study Cards contain the whole question and the RIGHT ANSWER on one side of the card, with the KEY WORDS underlined in both the Question and the Answer. The reverse side displays the question with the multiple choice answers as seen on an exam. WHEN the question and answer are KNOWN...the card is put back in the box...for a quick review before the test.

An easy way to teach others - - -
VIS Study Cards have been used in classes given by Amateur Radio Clubs in more than eight states... and by many individual Hams, parents and friends, all over the country.

At Dayton HAMVENTION (1997) a German Ham dropped by our booth to purchase a Vibroplex key and mentioned that he had just passed his Novice and Tech Test....asked how he'd studied...he responded with "VIS Cards"....which he had studied on the flight over!!

How about one more... Seven (7) have passed ADVANCED OVER NIGHT!!... and one woman, at the urging of friends from Baton Rouge, purchased a set of EXTRA cards at the Shreveport, LA Hamfest on a Saturday and PASSED the EXTRA written on Sunday!
ALL THE QUESTIONS
. . . . ANSWERS
. . . . AND . . . . DRAWINGS . . . at your fingertips!
There is a card for EVERY SINGLE QUESTION!!
Click here to see photos of many happy and successful users!
---
Prices Effective 1 March, 2019
New General El-3.19 Cards are Now Shipping ! ! !
...and we're working on the new Tech & General Paperless Study Cards CDs!
So current General El-3.15 Cards & CDs are half price while they last !
The K7QO Code Course is included on each Paperless Study Cards CD!


Paper Paperless
Study Cards Study Cards * * * * * * * * * * * * *


TECH EL-2.18 $28.95 $19.95 Issued 1-12-2018 Shipping Paper Cards ONLY!
Valid 7-1-2018 => 6-30-2022

GENERAL EL-3.15 $14.98 $9.98 Issued 3-20-2015 Shipping Paper Cards & CDs NOW!
Valid 7-1-2015 => 6-30-2019

GENERAL EL-3.19 $30.95 $19.95 Issued 1-6-2019 Shipping Paper Cards NOW!
Valid 7-1-2019 => 6-30-2023

EXTRA EL-4.16 $42.95 $19.95 Issued 3-5-2016 Shipping Paper Cards & CDs NOW!
Valid 7-1-2016 => 6-30-2020

Combos... Cards... CDs...

- TECH-GENERAL COMBO - $52.95 - Tech+General CDs - $34.95
- All-the-Way - THREE-PACK - $92.95 - General+Extra CDs - $54.95
- GENERAL-EXTRA - Finisher - $69.95 - All three CDs - $59.95


ADD $4 FOR SHIPPING OF PRINTED STUDY CARDS via USPS MEDIA MAIL - or - $8 for PRIORITY MAIL SHIPPING.
ADD $4 FOR SEPARATE SHIPPING OF CD ORDERS via USPS MEDIA MAIL - or - $7 via PRIORITY MAIL.
UPS GROUND SHIPMENT AVAILABLE. SEE SPECIAL SHIPPING NOTE BELOW.


---
CALL 1-800-OKK-HAMS (655-4267) to ORDER TODAY!
or - e-mail us at info@visradio.com
or - even easier, use our SECURE Order Page
---
QUANTITY DISCOUNTS:
We offer quantity discounts to clubs, classes and dealers for study materials on orders for
six
or more of
any one item
or
ten
or more pieces combined.
Please e-mail or call for discount information on quantity orders.
---
SPECIAL SHIPPING:
We normally ship VIS Study Cards and VIS Paperless Study Card CDs via USPS Media Mail with a five to ten day expected delivery.
USPS Priority Mail shipping is available at extra cost as detailed above with an expected delivery of two to three business days.
Shipment via UPS Ground is available for $9.50 if the delivery address is a commercial establishment or for $11.00 for delivery to a home address to cover their increased Residential and Delivery Area surcharges.
We can ship overnight via UPS Next Day Air Saver and add an $27 charge if the delivery address is a commercial establishment or a $32.00 charge for delivery to a home address using this service.
---
|
BACK HOME
|
PICTURES
|
COMMERCIAL
|
CODE
|
ORDER
|
---
All brand names and trademarks are the property of their respective owners.
© 1998-2014, Van Iderstine & Sons, LLC, All Rights Reserved
---